18 Watt Warm White Cool White Dimmable LED Downlights SAA Approved 160mm cutout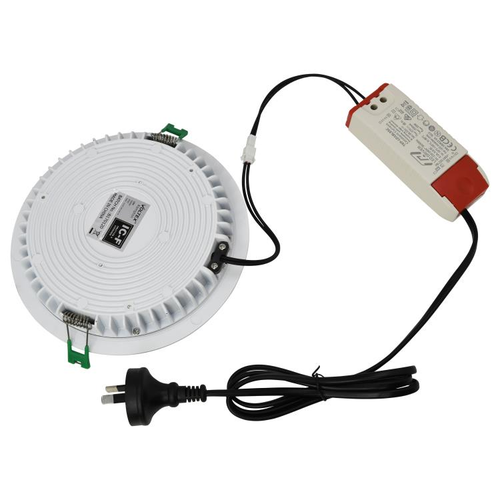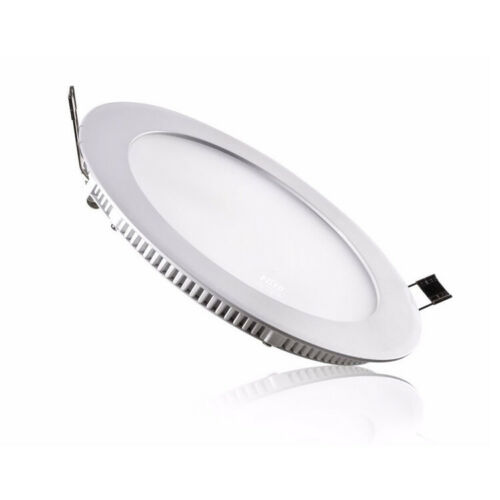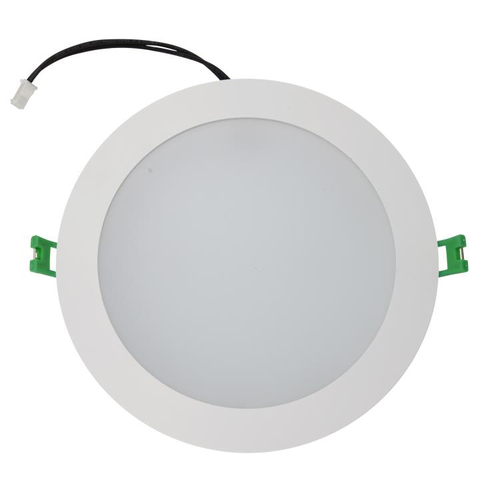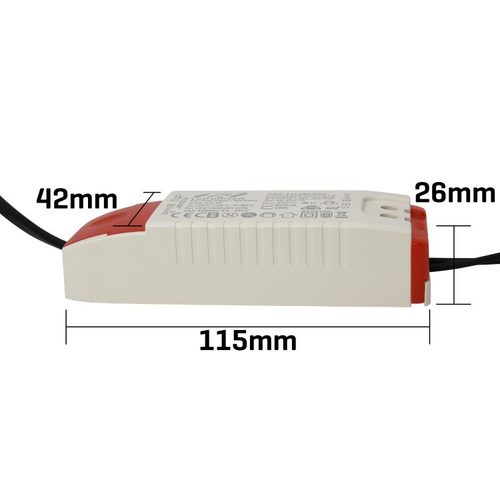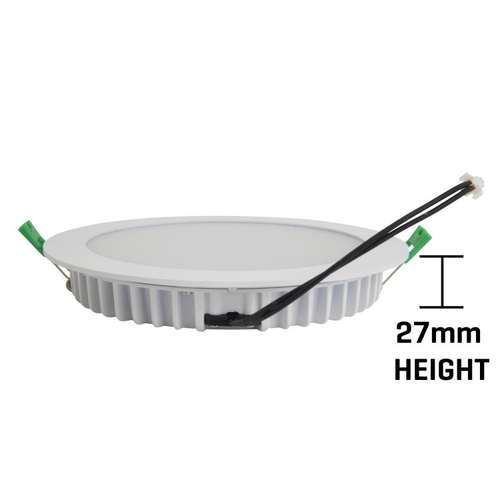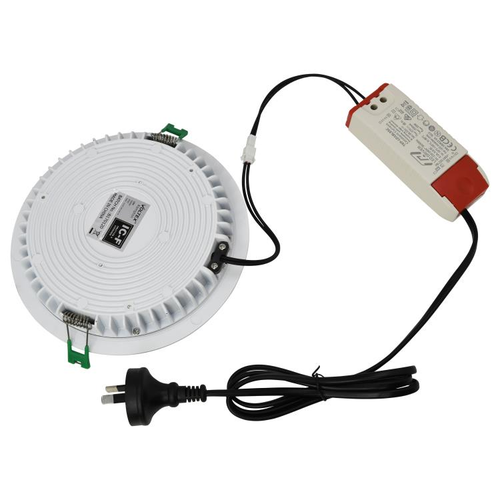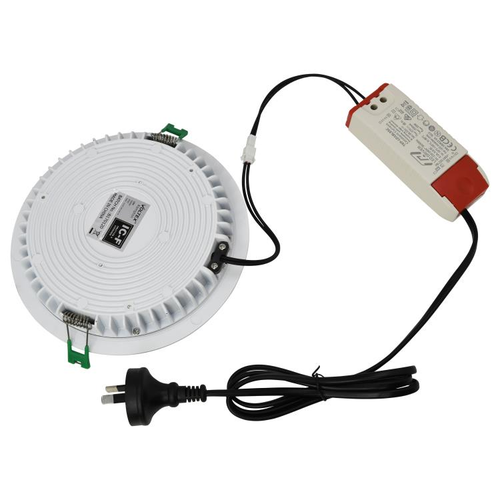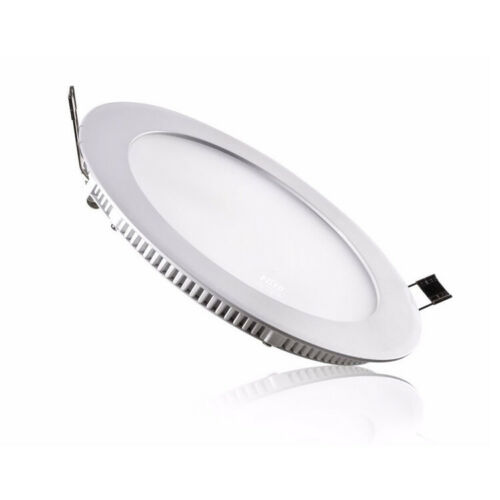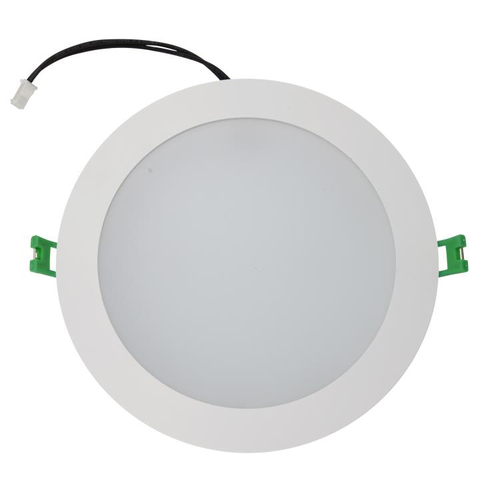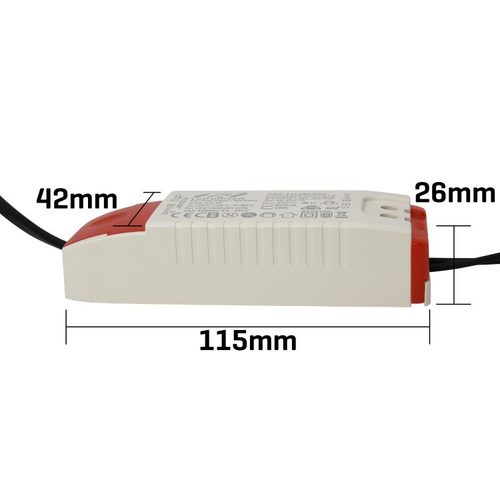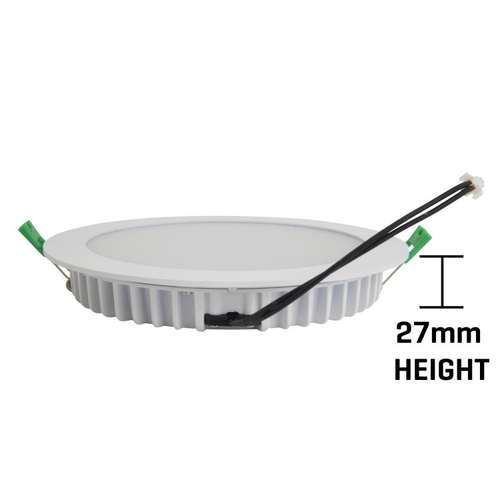 Highly energy-efficient and cool running for reduced fire risk. It's a sealed unit with no air gap into the ceiling cavity, maintaining the building envelope rating and preventing the loss of conditioned air. It comes with a flexi lead and plug for easy and quick installation
Product Features
Lamp Body Material: Aluminium

Power Rating: 18W

Body Colour: White

Working Life (Hours): upto 30 000Hrs

160mm hole cutout

AS/NZ standard

Application: Ceiling Light

Low Power Consumption

High Power Efficiency

Good heat dissipation

Warranty: 3 Years
Design Parameters
Input Voltage (V): AC240-265

Power Rating: 18W

Lumens: 80-85 lumens/watt

Color Temperature: 3000K (Warm White) ; 5500K (Cool White)

Beam Angle: 120 degrees

Product Size: ф220×H27mm

Hole Cut-out: ф160mm

IP Rating: IP21

Working Temperature: -30°C – 65°C
Certification
SAA, RoHS , C-Tick, TUV-CE, IC-F

An IC rated downlight means that building insulation that can be continuously exposed to 90°C can safely abut and cover the luminaire. IC-F downlights are designed to have openings no bigger than 1mm. No maximum temperature applies to insulation.
Elegant LED Lighting is a family owned business operating in Perth, Australia. We specialize in the supply of LED lighting products for residential and commercial premises.
We strongly stand by our products and service. All our products are covered by a 3yr warranty. If a defect arises and a valid claim is received by Customer Service within the warranty period, we will offer you an exchange, or new components for replacement.
Why LEDs
Do you want to save on electrical bills? Switch to our LED lighting products with guaranteed long life and save money.
Good-quality LED products can have a useful life of 30,000 hours or more. That is a life of more than ten years if run 8 hours a day, seven days a week.
In conventional lighting products, the light-production process involves generating a lot of heat (the filament must be warmed). This is completely wasted energy, unless you are using the lamp as a heater, because a huge portion of the available electricity isn't going toward producing visible light.
LEDs generate very little heat, and a much higher percentage of the electrical power is going directly to generating light, which cuts down on the electricity demands considerably.
Our eBay Store accepts payments through PayPal and most major credit cards.
Advantages of Paypal:
Pay directly from the listing page and your payment is deposited directly into the seller's account.
You'll be asked to log into your PayPal account on the checkout page, but you can choose the Remember me for faster checkout on eBay option to skip PayPal login next time.
Payment is traceable. Track the status of your payment in My eBay or your PayPal account.
You don't have to use a credit card. You can use an existing PayPal balance or transfer money directly from your bank account.
If you use a credit card, sellers don't see your card number. It's encrypted to minimise risk of unauthorised use.
On eligible transactions, eBay Money Back Guarantee covers your purchases for up to the full purchase price of your item, plus original postage charges.*
Items paid for with PayPal may be eligible for PayPal Buyer Protection.
Advantages of paying by Credit Card:
Pay directly from the listing page. You can choose to save your card to your eBay account for faster checkout next time. (You can remove a card any time in your account settings in My eBay.)
Payment is traceable. You can track the status of your payment using My eBay or your credit card account.
On eligible transactions, eBay Money Back Guarantee covers your purchases for up to the full purchase price of your item, plus original postage charges.*
Credit card companies typically provide some level of identity and purchase protection.
Contact your credit card issuer to learn more.
Please Note:
You must not pay, or attempt to pay for products through any fraudulent or unlawful means.
All payments must have a proper reference/order number provided when you made the purchase.
Goods that you have ordered will not be dispatched to you until your payment for the goods has cleared. If your payment cannot be processed, your order will be rejected and we do not hold the items that you have purchased in that order.
*For full details, terms, conditions and exclusions, refer to eBay Money Back Guarantee.
Shipping & Delivery
Packages are generally dispatched within 24 hours after receipt of payment and are shipped via Australia Post standard shipping with tracking and drop-off without signature. If you prefer delivery by other carriers, an additional cost maybe applied, so please contact us before placing your order.
At the request of our customers we have used other shipping services including DHL and FedEx.
Whichever shipment choice you make, we will provide you with a link to track your package online.
All our packages are shipped from Perth, Western Australia so local customers can pick up their orders from our locations in Landsdale and Wangara.
Postal Damage
If you receive an item from us in the post and its packaging is or appears to be damaged, please contact us within 3 business days of receipt to let us know so we can:
a) work out whether the items inside are damaged and
b) replace or credit as needed.
Unfortunately, we will need to get the item back first prior to shipping a replacement or issuing a credit. This is a requirement of our insurance policy.
Courier Damage
If we have shipped an item to you using a courier, instead of Australia Post, and you notice the item is damaged when the courier arrives do not sign for or accept the shipment. Please reject the delivery and the item will be returned to us automatically at no additional cost to you.
Once we receive it back we can ship a replacement or issue a credit depending on stock levels.
RETURNS & REFUNDS
1. Order Cancellation
For all products excluding made-to- order items, orders may be cancelled for a full refund at any time until the order is shipped.
2. Returns
We believe that customer satisfaction is key, which is why we offer a 30 Day Money Back.
Guarantee – All returns or exchanges must be made within 30 days of receipt of your items.
If you wish to return an item, please contact us within the specified time frame. After 30 days your order will be assumed to be satisfactory and claims of shipment errors or requests for returns or exchanges will no longer be accepted.
3. Warranty
We continue to work with our partners and suppliers to ensure that we deliver quality products and services to our valued customers. We do however understand that occasionally problems do occur.
As such all our products are covered by a 3-year warranty unless otherwise specified on the specific product description. If a product fails during the specified warranty period please contact us and provide details of the failure. Warranty related issues can be resolved by partial or full refund and product or parts replacement.